Written by Dewi/Translated by Ba Kyaw
Farmers have been suffering the effects of social and ecological damage for years because of the lack of soil development and decreased yield of crops, affected by the use of chemical inputs and genetically modified seeds in agriculture.
Farmers began to practice sustainable farming methods without harming the ecosystem and living things, including humans, when they realized the health and the social economy were damaged due to farming methods that use too many pesticides and fertilizers.
Some farmers practice sustainable farming techniques. And some people are sharing knowledge with the farmers in far-off regions who can learn and apply these techniques.
The Lisu ethnic minister Thaung Mary is one of them. She guides natural agriculture techniques to ensure a sustainable and healthy lifestyle for the Lisu farmers from where she lives.
38 years old minister Thaung Mary is a part-time development officer at Poza Lisu Baptist Church and an executive at Lisu University of Theology Pyin Oo Lwin, who lives in Poza village, Thabeikkyin township, Mandalay.
She is encouraging the farmers from where she lives to apply chemical-free natural agriculture while she is working for the church.
Young people from Poza are not interested in becoming farmers, even though the inhabitants depend on farming for their living. Farmland and the soil is being destroyed, and crop yields are declining because of herbicide use.
She heard about the farmers' difficulties in agriculture while discussing with them. Then she wanted to sort out their needs.
Minister Thaung Mary is not only a farmer but also has studied organic agriculture abroad. She shared with the local farmers how to make organic fertilizers, knowledge about seed species, and technologies to increase local products.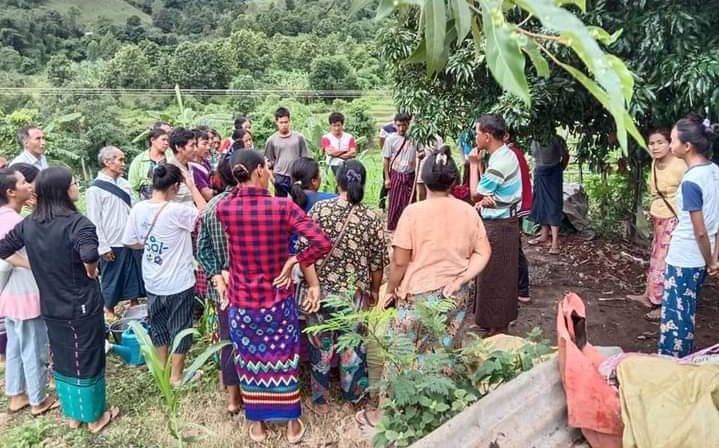 In Poza, farmers plant perennial crops like banana, mango, orange, and grapefruit commercially. But they plant seasonal crops on a modest scale. It is like corn, bean, choy sum, kale, and roselle sour leaf.
Farmers are challenged by the fact that perennial plants cropped for commercial purposes can only be harvested for a limited time.
The plants made good yields at the start of their 3 to 5-year fruit-bearing cycle. The plants eventually dried up, stopped producing, and perished.
"I realized that our area's soil problem has only begun. I knew the soil issue would come up to a farmer," minster Thaung Mary said.
Excessive herbicide use decreased the soil's quality and shortened the perennial plants' lifespan.
In addition, a result of too many trees being felled is the disappearance of beneficial insects. In this situation, the overuse of the herbicide resulted in an increase in dangerous insects that harmed the plants.
"Farmers use herbicide when they expand their farmland. They no longer have confidence in farming without herbicide and think it is essential," she said.
Then she offered chemical-free organic agriculture techniques training. So that the farmers could learn and practice.
No matter how she promotes organic agricultural methods, the farmers who lead in agriculture's participation rate are still low.
She persuaded them anyway as she believes that the farmers who make decisions should be mainly involved in changing the agricultural system.
"In our region, the only person who would comprehend and be able to express how the soil quality has declined and how plants are living shorter lives is someone who works with plants and the soil daily," she continued.
It was challenging to convince, but the farmers who realized the advantages of natural agriculture techniques began to join her.
Following the training, the women farmers organized into groups and practiced non-destructive farming methods such as natural insecticide.
Minister Thaung Mary is also trying to preserve the local seed species and implement sustainable natural agriculture techniques in her region.
"I've been discussing the importance of local seed species with church youth and kids. And I had informed those issues with the Lisu Christian farmers from other regions and our local farmer groups," she added.
"It is imperative to protect native species in Myanmar to prevent their extinction. If not, farmers would suffer as other species took the place of the seeds left behind by their ancestors," she warned.
Native seed species are better adapted to the climate and ecology of Myanmar and offer additional advantages such as fewer fertilizers and pesticides required, increased resistance to insects and severe weather, and higher nutrient content.
Some local seed species are on the verge of extinction due to the influx of modified species.
Agricultural specialists cautioned that genetically modified organisms (GMOs) can result in the issue of gene pollution, and it may also produce uncontrollable weed problems (also known as Super Weed) as a chain reaction that may also be harmful to people's health.
When farmers plant GMO seeds, the traditional practice of maintaining local species is lost. In this situation, seeds-selling companies are rich, but the local farmers are left with losses because farmers can't breed the seeds themselves.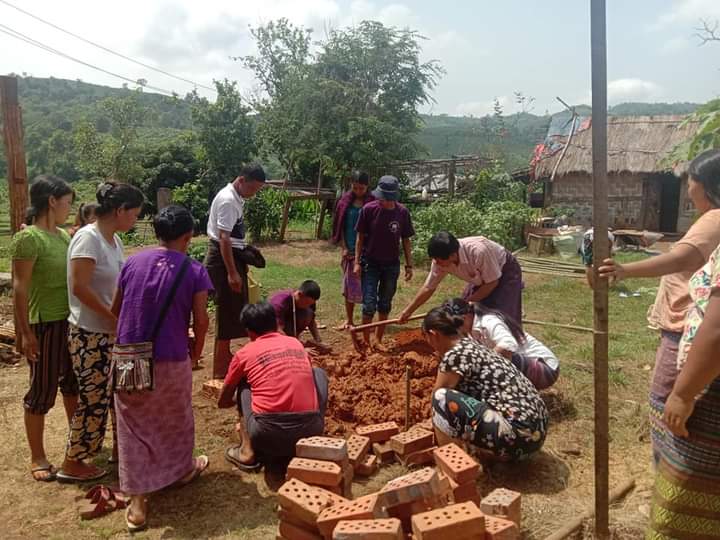 Thaung Mary said, "local seeds can be saved for next year and planted this year. And it may produce high-quality nutrients. If we didn't conserve organic seeds, GMO seeds would replace them."
While studying agriculture in Thailand, she also studied seed conservation techniques. So she returned to her hometown to collect and preserve local species.
In 2022, the Poza Christian Church started a local seed collection and preservation program to live a sustainable life.
She encouraged the farmers to keep the remaining local seeds in the seed bank after planting.
She shared seed species preservation methods during her preaching time in the church. And she discussed it with farmers too.
She said, "The farmers bring me seeds at my request, and I exchange them with my collection. And we held workshops related to it."
There were many difficulties in establishing a seed bank in her region.
She started with young people and children when building a mud storehouse to keep the seeds because farmers had less enthusiasm.
"A few women helped it. It means that there is still a lack of interest in the seed bank and consumer education among the farmers," she remarked.
Seed conservation is the seed extraction process from vigorous local plants grown yearly. And every step of this procedure is crucial, from choosing the soil to the cultivation site and the storage method.
There were numerous steps involved in preserving for the long term, including collecting the seeds, drying them, purifying them for genetic purity, storing them, retaining the data, and conducting germination.
They have collected and preserved approximately 22 species usually grown in the region, such as beans, corn, pumpkin, cucumber, choy sum, eggplant, tomato, and fennel. They set one day a week for receiving seeds from farmers to collect more seeds.
The seed banks are located in Poza village from Thabeikkyin township and Lisu University of Dharma, Pyin Oo Lwin. She is willing to share about establishing seed banks to appear more seed banks in other regions too.
She said, "There are various species everywhere. The locally nutrient-rich species had to conserve to remain. We all have responsibility for that. I will provide the technologies to those who are interested."
She also mentioned that she had prepared seeds for farmers who couldn't plant or harvest because of the instability in their region.
Using genetically modified seeds is more expensive than systematically collecting, maintaining, and planting the local seed species. Also, local seed planting will reduce the damage to the agricultural ecosystem.
She is teaching the Dharma to the locals as a minister and pressuring the farmers to adopt sustainable, chemical-free farming practices. That is what I am serving for God. I believe that I must give them this perspective.
Minister Thaung Mary said, "As a minister, I must help and say to them that only being healthy, self-sufficient, and having a full stomach enables us to serve the Gods."
A happy and healthy community can only be achieved when everyone works together to be as well as humans, the wellness of earth and nature.
For this reason, Minister Thaung Mary expected local farmers in her region to be healthy and secure food, withstand climate change, be sustainable agricultural land, and the young generation would survive in the local community.
Minister Thaung Mary "I will be satisfied if the soil returns to its original state in our region and the naturally nutrient-rich fruit comes out."
Latest posts by webmaster
(see all)