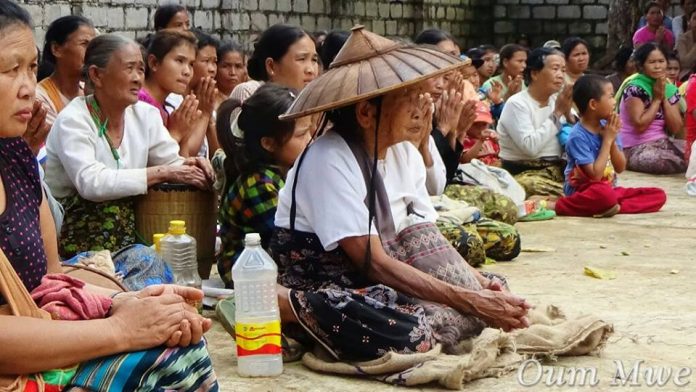 Cherry and Anna
While looking at children wearing their school uniform going to school Hkaw Mai says "I really want to go to school. When I am recovered, I will return to school. I will confess before the lord". Hkaw Mai is from Man Kaung village, Mong Paw Township, northern Shan State. But she is currently in Thailand where she came for her health and treatment.
When we are talking about Kachin refugees, we know that they are refugees from Kachin State. However, there has been fighting not only in Kachin state but also in northern Shan state where thousands of refugees are in grave difficulties.
A teacher who has been living with refugees from Hmai Hai village, Mone Ko Township, on the China-Burma border was trying to arrange for Hkaw Mai to go to school. However, one week before school Hkaw Mai has fallen down on a pig food pan. Her whole body is burnt so she could not go to school, and she has became double refugee. She was not accepted at Mansi hospital in China or a hospital in Yangon so she came to Chiang Mai for treatment for her injuries.
A teacher who is helping told us that with the help of Kachin Baptist Conventions, the girl was taken to hospital in Mansi city, China and Yangon. When the doctors checked her wounds from the burning, they rejected her for treatment.
"Hkaw Mai did not have any hair even when she arrived in Chiang Mai. Her skin looked scary. Her hands got closer to her upper body and she could not move them anymore. Her head also could not move. Now that her hair re-grows she looks much better" said a friend.
With great luck, one of the preachers in Chiang Mai has helped her get her treatment so that her family does not need to worry about her, and until now she is having proper treatment.
For a 12 year old girl, it is normal to have small breasts as normal growth but for Hkaw Mai, she will not have a breast since her chest was terribly burnt.
"I sympathize with her. She is having her treatment far away from her parents so I am happy that I could help support her" said a teacher who is taking care of her.
Hkaw Mai did not go to school until she was 12 because she was taking care of her younger brothers, and her mother who has hemiplegia.
"One hand of my mother is not working. My father is opium addict and only interested to find opium. He does not care about his children. We are very poor and because of that I could not go to school. We have to give away my younger brother for adoption" said Hkaw Mai.
Hkaw Mai mother, who is staying at Mone Ko refugee camp, said they have to run from fighting in northern Shan state along with another family.
"We have 4 children, 1 girl and 3 boys. Among my sons, the eldest had rickets and only lived for 6 months and died. For the youngest boy, when he was only 2 weeks old, I had to give him up for adoption because I did not have enough money to take care of them" said Daw Maram Bu the mother of Hkaw Mai telling us her story.
"Now at home, my son is already 6 years old. Last year, we could afford to pay only for one month nursery school fees so he went to the school for only one month. This year, his uncle paid his school fee so he can attend. I felt very sad to think about my children's future but I cannot do anything because I am a disabled person. I want my children to be educated, that is why I gave my son for adoption. Now my daughter Hkaw Mai got burnt and is not able to go to school. She is having treatment in other country" said Hkaw Mai's mother, crying.
One of the neighbors said "Her husband does not give any helping hand and the wife cannot do much with only one hand. They both do not have any relatives to help them, so their live are much more difficult".
"Some of the villagers have helped them as much as they could. The adopted parents of their younger son also send them some money. But we do not know how much they get. We heard that money was sent through a person who took their son to the adopted parent".
According to U Aung Min, minister of the president office, said there have been about 200 fighting in 4 months in Kachin state and Shan state. Most of the fighting happened in Kachin state and the northern part of Shan state. Many people do not know about refugees from northern Shan state and they do not get much attention or aid for them.
Daw Maram Bu said she cannot ensure that Hkaw Mai can go to school after she returns from treatment.